We all want better things from life. But it takes effort. Either from a job, a business, a hobby turned weekend income or however you seek your money. Maybe I can help you and you can help me.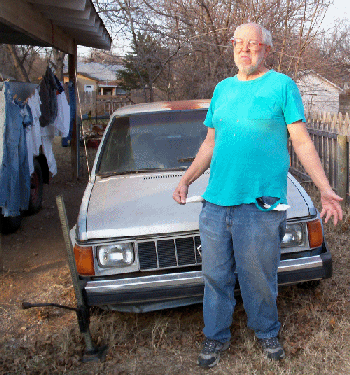 Update: Saturday, 20 January, 2007. -- Well, the car is gone. Now I'm afoot. The city threatened to tow it away, and then charge me hundreds of dollars. It needed a little work I couldn't afford, plus tag and insurance. The guy at the junk yard was nice enough to haul it away for free. SOOOOOO... Keep me on your list. And I'm not looking to buy a fancy expensive car. Just a small pickup or suburban or station wagon. Something from the mid 1970's. Then I can keep it up myself and the insurance won't be unbearable.

Isn't it about time OUR lives change?

No, I don't collect welfare or food stamps. Never have.

I buy, sell and trade used computers and parts and Flea Market STUFF.
This site is dedicated to helping YOU get more visits to your donation page. The idea being the law of averages. You may need 100 or even 1000 people to visit your page to get just one donation. So when I visit sites and see they have been viewed 67 times in the last THREE MONTHS, I can see there isn't much chance of the money being given.

Let's start with an opportunity for you to help me. Just click the PAYPAL button and send me $10 or any amount that will be a trade-off for the information and help I hope you find here.

THANKS
What do you need to do to get visitors to your website to get the money coming in? First, it is a lot of effort. Maybe even more work that a regular job. I spend about TWO to THREE hours every day on the internet. Researching ways to get more visitors to my website. Surfing other's websites to see how they are getting visitors. Joining clubs, groups, link exchanges, and MY SPACE, YOUTUBE, and anywhere else that will generate ideas.

Hopefully, you'll find the thousands of hours of research here worth your $10. Or whatever amount you can pass on. I've actually had people come back and donate $100 after using my site and the links and reference material because their donations skyrocketed. It is nice to see a $10 donation and then a follow-up THANK-YOU donation. But that is not required. If you find the info here worthwhile, you'll be happy to be involved.

NOW, on to some basics. -- YOU NEED VISITORS to your website. The link below will get you started. Then, after you go there and visit just SEVEN websites, you can get started receiving dozens of extra visits to your website.

DO THIS BEFORE YOU CONTINUE TO THE NEXT PAGE...
CONTINUE
---





At a later time I may add some graphics but this is pretty simple to follow. On the bottom left of your computer click on the Start button, point at Programs, the next column will open, point at accessories (at top on most computers) and the next column will open. At or near the bottom will be PAINT!

Along the left side of the paint program are some little action boxes. A dotted star, dotted box, bucket, spray can, A for text and a pencil. Next to the pencil is a paint brush. When you click on the paint brush, a box will appear below with brush tips. Round, diamond, square in asst sizes, and / lines. Click on the center / line. Now with your mouse draw the letter S. It will appear in black. Click on a color in the table at the bottom and then make another S. I did black, red, blue and orange, on top of each other for a really cool effect.

You can save your scribbles, but they are in BMP format. These are really large files. I open them with Paint Shop Pro and convert them to GIF format, then upload to the net.

HAVE FUN!